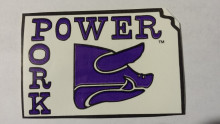 Email:
mjnelsonpork@gmail.com
Description
I am a Fourth Generation Farmer. I have raised hogs for over 40 years and enjoy my job daily. I have endeavored to develop a hog that will taste great but still be at a reasonable price. These hogs have been bred for meat quality.
I have pork for sale as a whole, half or quarter. The average live weight is 300 lbs with a minimum carcass weight of 208 lbs per whole.
To place an order, you can contact me specifying which quantity you wish to purchase and I will deliver to the locker.
The processing location is Diamond A Processing, 2615 N. Jackson Street, Junction City.
PRICING:
1/4 Hog 52# min dressed wt. , $70 for pork + $95 processing, total $165
1/2 Hog 104# min dressed wt., $140 for pork + $175 processing, total $315
1 whole Hog 208# min dressed wt., $280 for pork + $350 processing, total $630; all grinding, curing and smoking will be done in their new facility at Clay Center Locker, 516 Grant Avenue, Clay Center.
Pick up will be available at both the Diamond A and Clay Center locker locations.