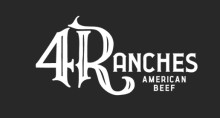 Email:
4ranchesbeef@gmail.com
Description
Hi! We are 4th generation farmers and ranchers living in the Heartland of Kansas- raising kids, cows, and crops!
We are so excited to offer ranch to table steakhouse quality beef. Direct to consumer beef not only allows the consumer to have full transparency of where their beef comes from, it provides a unique opportunity for producers to showcase their hard work. We come from a long line of cattlemen and cattlewomen who have invested heavily in quality, efficiency, and integrity. We pride ourselves in animal husbandry and stewarding the land that God has blessed us with.
We have 1/4-whole beef shares, 80/20 ground beef, and a variety of seasonal bundles. All beef has been born and raised on our ranch and harvests in Kansas. Grass-fed and grain-finished, offering tender and flavorful beef! Please contact us to hear about our upcoming beef share availability!