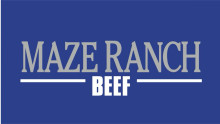 Email:
allanjmaze@gmail.com
Description
Maze Ranch Beef is located southwest of Medicine Lodge, KS in the heart of the beautiful Gyp Hills. We raised 3 kids on the ranch and our family now numbers 14. Our youngest daughter Bobbie Rae and her family work with us here at the ranch. Maze Ranch represents 5th, 6th and 7th generation ranchers in Barber County.
Maze Ranch Beef is fully inspected by the state of Kansas and is registered with the Kansas Department of Agriculture as a Wholesaler. (KDA #2007) Our steers are black & red Angus with some Hereford influence. They are grown on grass then finished on a 3 step ration the last 120 days. We send them for processing to our local USDA plant in Kiowa, KS, where our carcasses will then hang for a minimum of 21 days.
Our beef is available to you by the whole, half, quarter or cut. Our goal is to make high quality beef products available to your family at great prices. Maze Ranch Beef has found its way onto many family tables in Kansas, Oklahoma, Colorado, New Mexico, Texas, Wisconsin and Tennessee.
Here at Maze Ranch Beef, we believe more than ever that it is extremely important to shorten the distance between you and the things you need for your family. Buying your family's meat, produce, honey, milk, cheese and eggs from a farmer is a smart move.
We believe that it is important for people to know where their food comes from. Thank you for your support of the American rancher and of our small business!
Sincerely,
Allan & Patty Maze